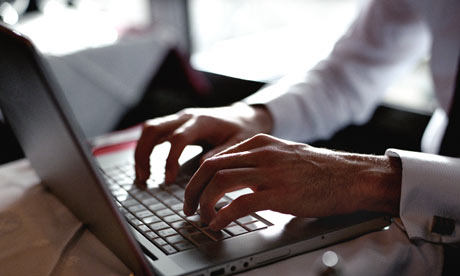 Photograph: OJO Images/Rex Features
I like to eat out with my family quite often and so I regularly review restaurants on my blog. When I review a restaurant, I will use social media to tell the owners that I have eaten in their restaurant and have written a review on my blog. I always pay for my own meal, unless stated, and so I am a paying customer giving the restaurant feedback on my experiences in terms of food, service, ambiance and other elements. To be honest, I am also providing them with free advertising by mentioning them on my blog, especially if the review is complementary. I will always write exactly what I think about a restaurant in a fair and honest way and will try to give constructive criticism if my experience wasn't amazing.
As a vegetarian, I can typically tell in a restaurant whether vegetarian choices have been chosen by meat eaters who see vegetarians as an after-thought or by vegetarians who really care about the food they are serving. As a vegetarian food blogger, as well as commenting on general aspects of the business, I am also commenting on a unique aspect of the business - the vegetarian menu and my experiences as a vegetarian eating at their restaurant. Recently, I visited a popular fish restaurant whilst away on holiday with my family who had chosen to go there. Their vegetarian menu consists of two pre-cooked frozen meals and an Egg Mayonnaise starter which I ordered as a main course as it was the only fresh vegetarian dish on the menu. When the main course arrived, I took two bites of it and sent it straight back. The eggs had been kept uncovered in the fridge alongside raw fish and so tasted and smelt of fish. It was revolting. When I made this known to the staff and manager they couldn't have cared less. To be fair, they did take the food off the bill, but there was no apology, or care or thought into how a vegetarian might experience their restaurant and their food. As vegetarians do not form the bulk of their clientele, my experience to them was not important, although it was to me as our family would have been paying around £20 for my starter and main course alone, never mind for the cost of all of the other meals and so for our family to pay around £100 for us all to eat when I had a bad experience kind of left a bad taste in my mouth, but the restaurant didn't care as at least they had gotten their money and so the individual customer's experience didn't matter.
Recently I reviewed a restaurant on my blog and sent it to the restaurant via social media. I have heard nothing from them, not even a "we read your review". Nada. As a food blogger, I take this to basically mean "we don't care what you are telling us about our restaurant and your opinion isn't important".
So what is it that makes restaurant owners think that customer feedback isn't important?
This week, I watched an episode of Kitchen Nightmares USA where British Chef Gordon Ramsay visits the Burger Kitchen in LA and tries to turn their restaurant around. The restaurant had received many negative reviews from food bloggers and reviewers, all telling owner Alan Saffron that they had visited his restaurant and had a bad experience. He disbelieved their reviews. In the episode, Alan says of food bloggers & reviewers "Every Yelper (reviewer) lies, they hurt and damage restaurants, they are deliberately attacking my restaurant". If I give a review of a restaurant, I am offering my honest opinion. I am not going out to a restaurant to deliberately have a bad time. I desperately want to go out and have a good time, eat lovely food and thoroughly enjoy my meal and yet it seems unfortunately in the UK that this is becoming more and more of a rarity. I often visit a variety of different restaurants, all serving different kinds of food and in different price brackets and sadly it seems that my experiences are largely the same. The standard of cleanliness and service varies as does the quality and taste of the food and it is not dependent on how much I am paying for my meal. I can go to my local Italian and get a great meal, competitively priced with great service in a clean environment. In comparison. I recently visited an upmarket Italian where I received awful service, ate mediocre food, and paid through the nose for it.
When I am in a restaurant as well as assessing the food and service, I always take a look at the decor and cleanliness of a restaurant. I sometimes find sticky tables and dirty walls which never bodes well. I also make a point of visiting the ladies facilities. Quite often I am met with dirty cubicles, broken sinks, carpet which smells of mildew due to water leakages and cheap nasty air freshener trying to cover it up. The standard of the toilets often says quite a lot about the business and it makes me wonder if restaurant owners keep customer areas in such a bad condition, what does this say about the state of the kitchen where my food is being prepared?
In the Kitchen Nightmares USA episode which aired this week on Channel 4, Eric Greenspan, Owner and Executive Chef of the Foundry, on Melrose in LA says "You can't take restaurant reviews personally, any review you get from someone is feedback". In the industry I work in, we are constantly asked to reflect on our practice, evaluate ourselves, and ask for feedback and evaluation from our clients, in order to improve our practice and make the experience better for our clients. In my opinion, it seems that many restaurants do not really evaluate their performance and the service that they are giving their clients. They may invite feedback in the form of "prize draw offers" for comments, but I wonder how many of them actually implement any changes and take heed of what their customers are telling them. I worked in a well known chain restaurant for five years where they asked for this kind of feedback and nothing changed in five years other than the high turnover of staff. When a customer complained, they would merely be appeased with free meal drinks or desserts, or a free meal. To me, this was extremely frustrating as the root of the problem was not addressed and so the bad practice continued and was never rectified.
Gordon Ramsay says that if there are complaints about a restaurant then "we've got it wrong.....so we move, we change course, we take Yelp (reviews) as an advantage to reposition ourselves and we listen, that's what we do". As a food blogger, if I write a less than outstanding review about a restaurant, or complain about an aspect of the restaurant whilst I am in there, I am not a freeloader looking to be compensated with a free meal or insincere gestures. I am offering genuine feedback in the hope that the restaurant will take my comments on board and improve their practice. It seems to me that as long as restaurants are getting customers through the door who are paying for their food, then the experience of individuals - especially food bloggers who are more likely to comment, does not matter until it gets too late and the customers are not coming anymore.
I would love to think that by taking customer comments on board and improving service and cleanliness in restaurants, I would not be regularly disappointed when I visit a restaurant and find out that it's not all it's cracked up to be. I would also love to think that something as simple as consulting a vegetarian when it comes to vegetarian choices for a restaurant's menu would ensure that I enjoyed the food that I was eating. (I am available by the way if you need help with that!).
Overall, I would hope that restaurant owners would not come to see food bloggers and reviewers as the enemy - we are not. So this is a plea from a lowly food blogger to restaurant owners everywhere... please take on board our comments! We want your restaurant to succeed as much as you do as we want great places to eat out in. We want to go to places and receive great service and delicious food. I want to take pictures of amazing, appetising dishes to post on my blog! If a food blogger writes a review for your restaurant then read it, and at least contact them to say you have read their review - even if you didn't like it and don't agree with it. I would hope that restaurant owners would take the comments of food bloggers on board and act on them constructively. Remember - they are not a personal attack on you, we are simply portraying our experiences of your restaurant and offering feedback in the hope that the next time we visit, things will have improved, we will enjoy our experience and your business will be succeeding.
Interestingly, the restaurant which appeared in the Kitchen Nightmares episode is now closed and there is a fascinating expose into the episode and the family here.