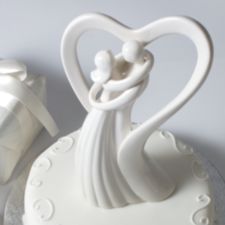 Picking out your wedding cake should be a joyful experience, but it can easily turn into a nightmare for brides and grooms who are being pulled in different directions by their family and friends, or who might choose a baker who doesn't deliver their dream cake. So to avoid the anxiety, here are some tips to help brides to be choose the right wedding cakes for their wedding.
Avoid Very Bright Frosting
Having a cake iced in a fluorescent colour may seem like a good idea, but the dye used to colour the icing is likely to stain everyone's lips and teeth as well as their clothing. It is better to use brightly coloured ribbon or flowers to add colour to the cake.
Choose Several Flavours
There is no way to choose every guest's favourite wedding cake flavour, but it is good to have several cake options available. Vanilla buttercream and fruit are the more traditional wedding cake flavours, although chocolate or lemon are becoming increasingly popular, along with carrot cake. Many brides and grooms buy layered cakes so that each layer is a different flavour and guests are offered more choice. If you want to make sure that your cake is completely vegetarian or vegan, consider finding a baker who specialises in these areas of baking.
Don't Let a Friend Make Your Cake
Some couples allow a friend to make their cake to save money, but unless your friend makes cakes for a living, buying the cake from a professional baker is usually worth the investment. Wedding cakes may not look difficult to make, but it is essential that the finished cake looks great, and it would be terrible to lose a friend because your visions of the perfect cake are not the same.
Have the Cake Delivered and Set Up Professionally
Picking up the cake may seem like a good way to save money, but layered cakes can be difficult to assemble and it would be a tragedy to leave the bakery with a beautiful cake, only to have it be ruined whilst being transported to the reception or during assembly.
Don't Listen to Everyone's Opinions
When it comes to choosing wedding
cake toppers
or decorations, most people won't be shy about sharing their opinions. It is a good idea for the bride and groom to sit down together and choose a cake design they love, regardless of everyone else's feelings,. It is also important to choose something which is personal to you both and which fits in with the theme of the wedding.
Disclosure: This is a Featured Post which I have been compensated for.